GelMat DS- The only mattress system that adjusts for every cow!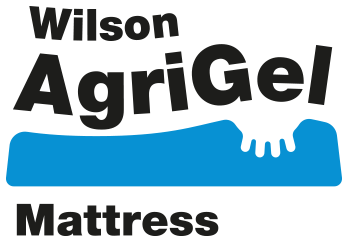 Premium Gel Mattresses for Dairy
Wilson Agri Gel is a triple layer, deep mattress consisting of a rubber crumb filled base, a middle layer of Gel-foam, and top-cover. The Gel foam, rests on a rubber crumb filled under mattress, to allow better air circulation.  It is covered with a top cover, which is water proof, yet breathable, allowing the warm air from the cows body to pass through the foam, softening it & cooling the cow. Test results using pressure point body mapping reveal that Wilson Agri Gel forms to the cow, relieving all pressure points while virtually eliminating hock sores. The Wilson Agri-Gel mattress, not only the ultimate in comfort, but also the most durable and affordable solution you'll find. Our extensive in barn studies have proven the Wilson Agri Gel's effectiveness, with cows lying longer, moving less and therefore cows are more productive.
Cooler Cows
Less Pressure on Hocks
Flat surface, for ease of cleaning.
Firm foam, supporting the, hoof when standing.
Softens and molds to the cows, body shape as she rests.
Long life top cover
Helps lame cows rise and stand comfortably.
Waterproof
Non slip
10 year warranty
NEW CCS (Comfort Control System), which connects an air line to all the Gel Mats. This maintains consistency of each bed, and optimises longevity and Cow Comfort.
Download the latest resources and datasheets here