The Cowcoon hybrid stall offers stability, comfort and control, in the gentlest of manners.

A polyethylene tube on the lower body of the stall partition guides the cow, offering ductile support to her body thus hugging the cow, ensuring that she rests securely, comfortably and without the risk of bruising or swelling commonly associated with all steel partitions.
Lower polyethylene tube removes corrosion
Acts as a shock absorber alleviating stress
on the front mountings and the cow
Reduced load from 29Kn to 12.5Kn (over 50%)
The Cowcoon is available in 2 mounting systems:
Floor Mounted
Post Mounted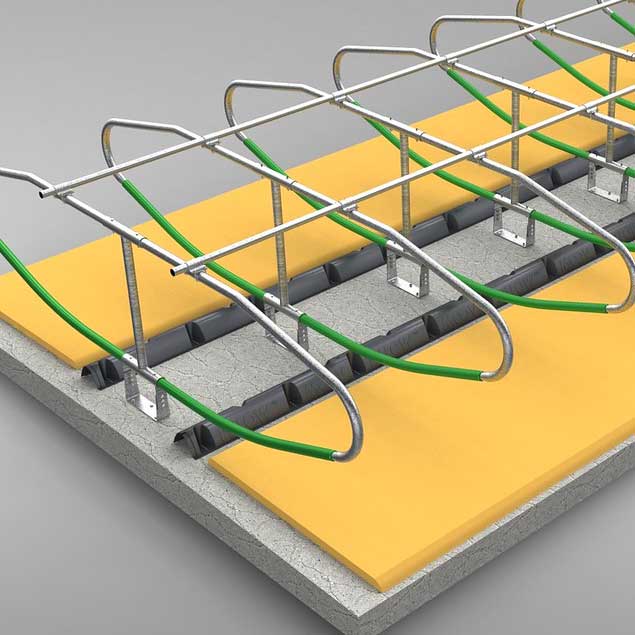 Are they made of plastic to save money?
No. The plastic part of the stall is designed to keep the cow more comfortable and prevent bruising and swelling.
Does the plastic just wrap around the steel?
No. The plastic part of the cubicle is hollow allowing it to flex with the cow. It is not there to protect the steel but to give more comfort to the cow.
Will the plastic break easily?
No. The plastic has been specially designed to withstand the cow's weight.
"Since putting in the Cowcoon cubicles I have noticed a massive reduction on spinal bumps. This can be an issue on the all steel cubicles but the Cowcoon's have been fantastic in eliminating this problem. They really come into their own with mature and dry cows."
"We have recently moved the herd to a new robotic unit milking system with cows housed full-time. After many farm visits we choose Wilson Agri's Pasture mats Cowcoon Cubicles. The Mattress are cubicles were neatly and efficiently installed by Wilson Agri's experienced fitters. After just a few weeks in the new set-up the cows are more content and relaxed and therefore more productive."
"The Cowcoon Cubicle and Pasture Mat are very comfortable for the cows. On our robotic grazing system I often find the cows preferring to lie in the cubicles instead of lying out in the field. The cows are very content and the Cowcoon cubicles are more flexible and less abrasive than the all steel cubicle. They suit my system very well."
"I found the Cowcoon cubicles a lot more comfortable, especially for lame cows. The cows lie straighter which helps them to lunge easier when getting up. The Pasture mat provides great comfort for lying as well"
"Our cows love our new Cowcoon cubicles and Pasture Mats. They are the cows first choice over and above the steel cubicles."
"Our cows love the cowcoon cubicles. Compared to the steel cubicles that we have, the cowcoon's are a lot more comfortable and more spacious for the cows lunging. The pasture mat with the foam really adds great comfort as well. There is a world of difference compared to what the cows were used to."
We understand that happy customers make happy farmers. We thoroughly test our products against other alternatives and use timelapse photography to see cow preferences.